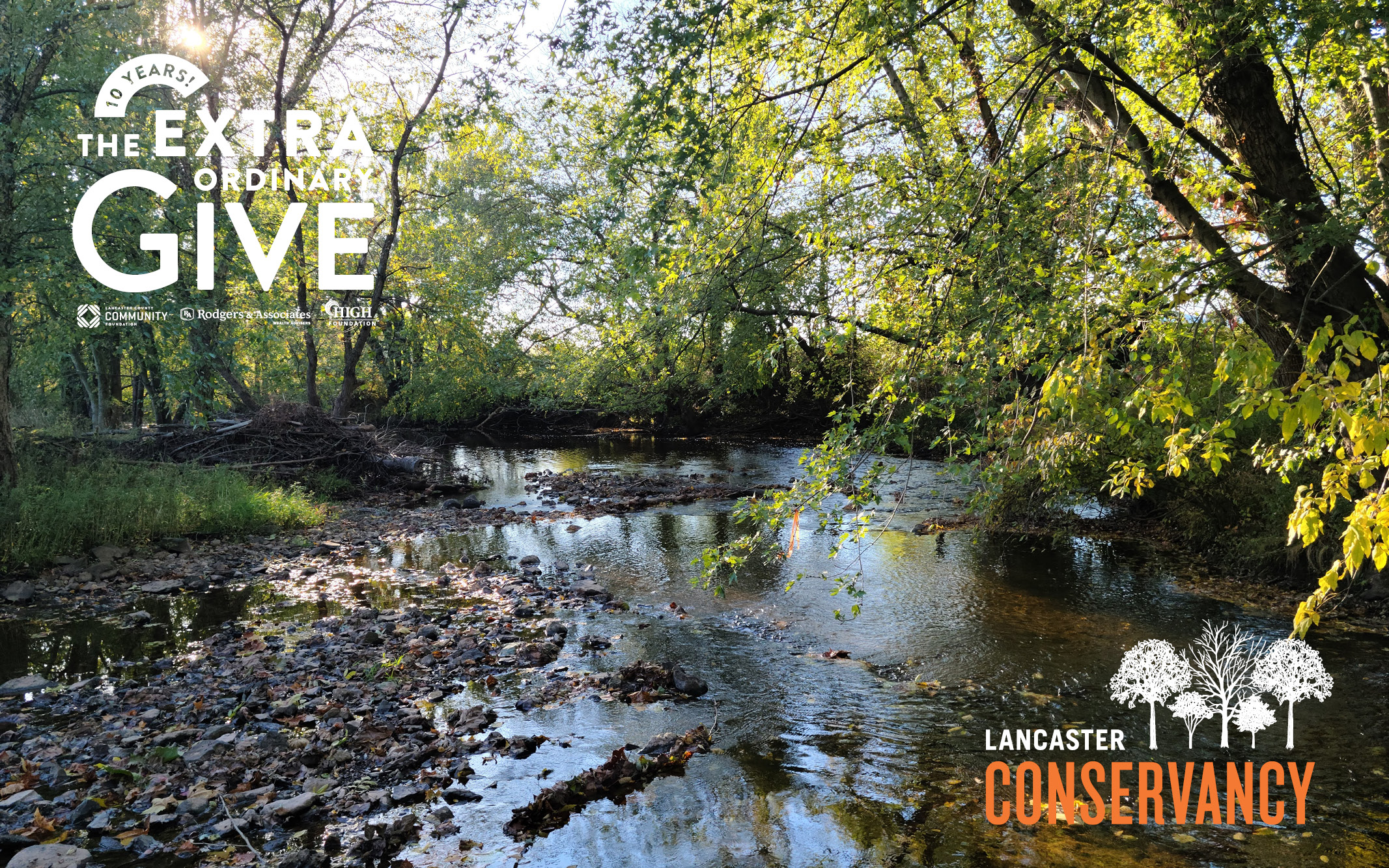 Dear Friends,
You've seen the headlines and heard stories from neighbors about this unprecedented real estate market – let me assure you, the pressure is palpable. As wild lands come up for sale, the Conservancy needs your help to compete financially and permanently protect our beloved landscape.
Your gift this Friday, November 19 during the Extraordinary Give will help fund three high priority acquisitions that protect vital wildlife habitat and waterways as well as provide opportunities for recreation close to home.
Donate During the ExtraGive Nov. 19 →
We need your help during the Extraordinary Give to purchase a 156-acre property along the Conewago Recreation Rail Trail – a property at risk of being sold and developed in the rush to build warehouses. This tract has a large stream restoration project along a mile of the Conewago Creek planned by Mount Joy and Londonderry Townships. It has a mix of forests, beautiful meadows, and farm fields – a classic Lancaster landscape. It is truly remarkable.
Each of these tracts plays a critical role in restoring our forests, supporting biodiversity, and protecting water. As we continue to protect and grow our preserved natural lands, we create a landscape where nature can flourish and thrive as intended. Please give extra this Friday to support these efforts – the trees, birds, plants and animals will thank you, as will the generations to come that will enjoy this land forever.
With thanks,
Kathie Shirk Gonick
Senior VP of Land Protection & General Counsel
Lancaster Conservancy
P.S. Join me in becoming a fundraising champion for the Lancaster Conservancy this Extraordinary Give! Amplify your support by engaging your friends, family and coworkers to increase your impact for our woods & water!
P.P.S. Whether you're an early bird or a night owl, there are matches taking place throughout this 24 hour day of giving! Thanks to generous donors and the Conservancy's annual sponsors, your donation during the ExtraGive on Friday, November 19 will be matched up to $125,000!
Make your gift go even further! Stauffers of Kissel Hill is challenging our community to help save nature with an additional $10,000 in matching funds during lunch from 11:00AM – 1:00PM! Stauffers of Kissel Hill will also be accepting donations at check out at their stores this Friday to support the Lancaster Conservancy during the ExtraGive!
Donate During the ExtraGive Nov. 19 →