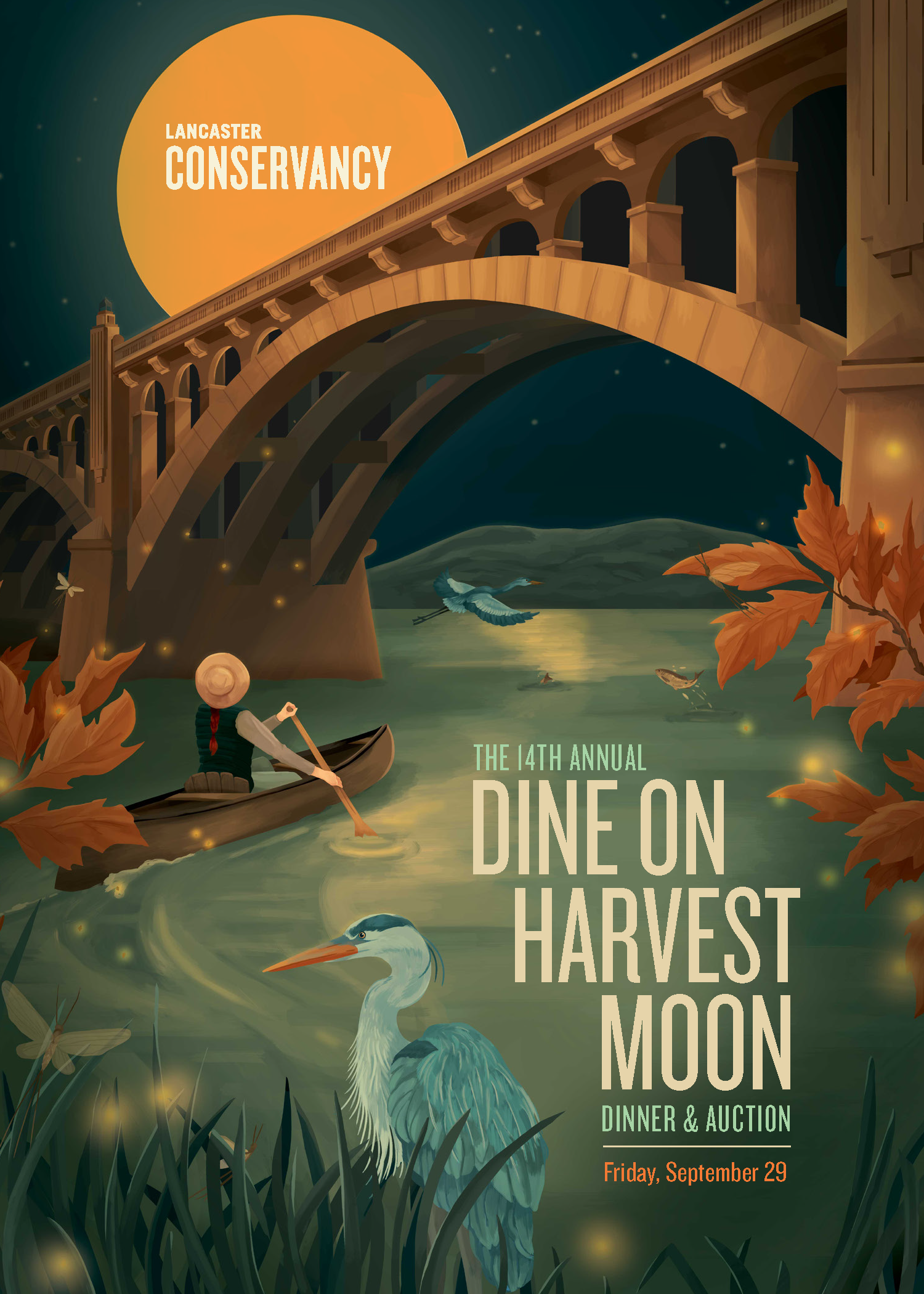 Friday, September 29, 2023
5:00 – 10:00 PM
at the Lancaster County Convention Center
Heritage Ballroom
25 S. Queen Street, Lancaster, PA 17603
EVENING SCHEDULE
5:00 PM | RECEPTION
Cocktails, conversation, and hors d'oeuvres kick off our evening of celebrating conservation while you try your luck for outdoors-inspired raffle items.
6:30 PM | DINNER & PROGRAM
Get swept away by the beauty of the Susquehanna River in the transformed Heritage Ballroom and discover the significance of this ancient waterway and landscape. Eat, drink, and raise your paddle high to save nature and our riverlands during our spirited live auction!
9:00 PM | DESSERT
Celebrate with a sweet ending to a one-of-a-kind evening under the Harvest Moon!
– Cocktail Attire –
ENTREE OPTIONS
BRAISED SHORT RIB
Braised Short Rib with Garlic Demi Sauce, Green Beans, and Mushrooms
DIVER SCALLOPS
Diver Scallops with Pomme Dauphinoise
MOROCCAN SPICED CARROTS (VEGAN)
Moroccan Spice Carrots with Vegan Dill Yogurt, Curried Lentils, and Spring Pea Tendrils
All meals come with assorted rolls and butter and a harvest salad.
If you do not select an entree, you will be served Braised Short Rib.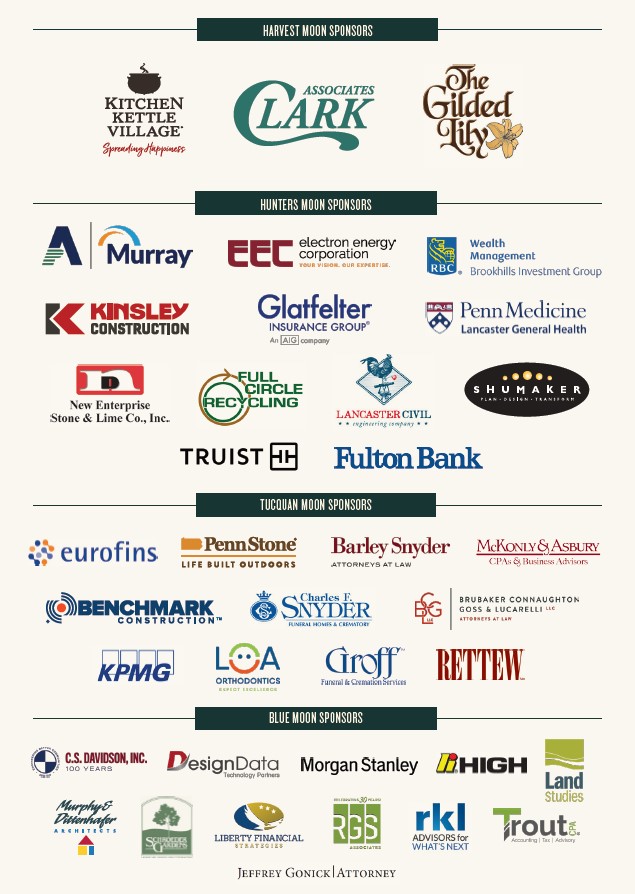 RAFFLE ITEMS
Y SERIES PORTABLE SMOKELESS FIRE PIT
This Breeo smokeless firepit is designed for portability. Look no further for the perfect place to make your s'mores this fall!
SPIRITS BARREL
Donated by the Conservancy's Board, you could take home several bottles of our community's favorite spirits!
KAYAK
After dining with us "along the Susquehanna River," you could explore the actual Susquehanna River on your very own kayak!
GOLDEN TICKET
NEW THIS YEAR!
Are you feeling golden? Purchase a golden ticket (or two, or five…) and hope yours is the one randomly selected. The lucky golden ticket winner will get to pick ANY* of the Live Auction items as a prize! The winner will be announced right before the auction begins.
GOLDEN TICKETS: $100 EACH
*Excluding Dinner of the Decade
LIVE AUCTION ITEMS
HANDCRAFTED WALNUT COFFEE TABLE
Long-time Conservancy volunteer and staff member Dave Myer has taken a downed walnut tree from Climbers Run Nature Center and transformed it into a one-of-a-kind coffee or side table. It's your opportunity to own a piece of one of our most beloved nature preserves!
CURATED WINE COLLECTIONS
Local wine collectors Gene and Anne Gardner, Wendell Funk, Ian Ruzow, and Mike Sturla and Tracy Horst have contributed some of their exceptional wines that will be sold by the wheelbarrow (two cases per barrow). Every great wine has a story, but these stories are enhanced when the wine is provided by collectors with impeccable taste. A total of four wheelbarrows will be sold to some lucky wine enthusiasts who love to drink remarkable vino.
FRESH WATER VS. SALT WATER
Enjoy Steve and Phil's River Cottage for a week on the mighty Susquehanna, complete with 180-degree water views and amazing sunsets on a private road. Or, stay at Fritz and Mary's beach block home in Avalon, NJ where you can enjoy long walks on the beautiful beaches of Seven Mile Island.
The River Cottage has three bedrooms and two baths. It's got beautiful sitting areas both inside and out, with expansive decks to enjoy river views and all that nature has to offer. It also has a baby grand piano for any musicians enjoying this getaway. The River Cottage is Phil and Steve's second home, not a rental, and is not suitable for small children on an extended visit. Guests will have use of the entire home along with a fully stocked kitchen and a garage with lots of outdoor gear like bicycles and kayaks. There is a large wood fireplace and heated floors if you visit in fall or winter. There is no restriction on which month or week you choose.
The artistic Beach House on 72nd Street sleeps eight. This part of Cape May County is known for its bird watching and monarch migrations, and the house is across the street from a bird sanctuary. You have your choice of a weeklong stay in 2024 or 2025 during the months of May, September, or October.
CHIEF UNCAS BOAT RIDE
All aboard! Gather up to 10 of your friends for a unique bird watching experience on the electric-powered Chief Uncas, owned by the Susquehanna National Heritage Area. Tour the Susquehanna like never before! A Conservancy naturalist will join you on your private boat ride, and refreshments will be provided while you cruise the river in style.
DINNER OF THE DECADE
Each year, Tim Arpin and James Henning from The Gilded Lily donate and create a "Dinner of the Decade" for up to 20 people the Friday and Saturday after Labor Day. On September 6 or 7, 2024 they are offering a most spectacular setting — their Lancaster County backyard filled with large tropical plants, an intimate outdoor living room and kitchen, enormous fish ponds, and exotic art. Café tables with be set up in the yard, and live music will entertain guests as they enjoy a Dinner of the Decade they will never forget. Exceptional wine is paired with amazing food, catered by the Hamilton Club.
PROGRESSIVE DINNER ON LANCASTER AVENUE
Back for a third and final year! On April 20, 2024, Lancaster Avenue's finest homes invite Conservancy supporters to a spectacular evening of beautiful residences, music, and exceptional food and wines. Guests will move together from home to home for different courses of the meal. This dinner's tickets will be sold by the ticket during the auction. This entire evening is paid for and provided by hosts Mike and Sandy Wege, Phil Wenger and Steve Dinnocenti, Kathleen McAllen and Jeff Thornton, and Chris and Jane Horst in their homes — all within a few doors of each other. Dinner is provided by Belvedere Catering and decorations are by The Gilded Lily.
KAYAK THE SUSQUEHANNA & DINNER AT JOHN WRIGHT RESTAURANT
Gather up to 10 of your friends for a guided paddle with Kayak Lanco, beginning at the Accomac and ending at John Wright Restaurant for a group dinner! All kayaks and equipment are included, along with dinner and transportation back to your cars. Date will be negotiated between winner and hosts — no Saturdays or Sunday mornings except during May, September, or October.