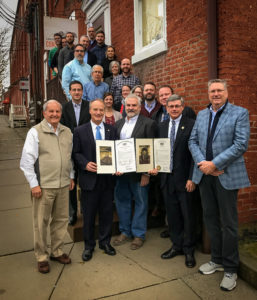 The House of Representatives of Pennsylvania and the Senate of Pennsylvania have recognized the Lancaster Conservancy in honor of its 50th Anniversary with a citation from both chambers. The citations were presented to the Conservancy Executive Committee by Representative David H. Zimmerman, Representative P. Michael Sturla, Representative Brett R. Miller and Senator Scott Martin.
"Land Protection requires strong partnerships between organizations like the Conservancy and our Lancaster County public officials.  We are grateful to receive these proclamations supporting our work,"  said Phil Wenger, President.  "We look forward to the continuing support of our state representatives."
The citation from the House of Representatives states "Whereas, Founded in 1969, the Lancaster Conservancy was established to protect natural lands in Lancaster County, and it has expanded to include more than six thousand acres across four counties. Throughout its history, the Conservancy has made inestimable contributions to the welfare of society through its programs, which are designed to enhance the quality of life for all, a succession, of dedicated leaders, staff members and volunteers has made this possible, keeping ever mindful of the noble maxims of the organization. Now therefore, the House of Representatives of the Commonwealth of Pennsylvania salutes the Lancaster Conservancy upon its richly deserved recognition; offers best wishes for continued growth and success in the years to come[.]"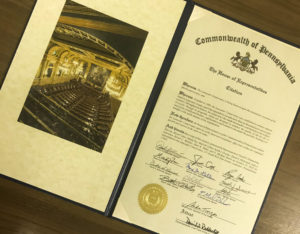 Both citations from the House and Senate will be recorded forever in the archives of the State of Pennsylvania.
Thank you to the following Representatives for sponsoring this citation: David H. Zimmerman, Jim Cox, Bryan Cutler, Mindy Fee, Mark M. Gillen, Keith J. Greiner, David S. Hickernell, John A. Lawrence, Steven C. Mentzer, Brett R. Miller and P. Michael Sturla.
Thank you to Senator Scott F. Martin and Senator Ryan P. Aument for sponsoring the document from the Senate of Pennsylvania.