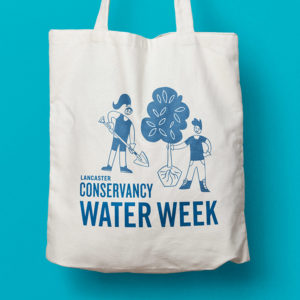 Get Your Water Week Pledge Kit
Each pledge participant can pick-up their own Pledge Kit during Lancaster Water Week, June 4-12. Multiple pick-up opportunities will be offered throughout the county! Pledge kits will contain a free Lancaster Water Week reusable tote bag, native tree or shrub, Conservancy sticker, and a multitude of resources from the Conservancy and our partners to help you achieve each of the three action steps!
Let's Make A Splash
Snap a photo and share what actions you take for each step of the pledge using #LancasterWaterWeek!
Took the Water Week Pledge last year? Recommit to take action! 
We encourage you to recommit to your pledge to take action to protect our streams and rivers! And don't forget that pledge kit! This year's pledge kit is filled with new resources – plus another opportunity to pick up a free native tree, shrub or pollinator plant! Complete the pledge form and let us know what impact you've made since 2020!