Suet is an excellent food source for your backyard birds during the winter months. Since it is high in calories and fat, it delivers a sustainable level of energy and helps the bird's body stay warm during the colder months.
Volunteer Land Steward and self-avowed aviary enthusiast Sarah Gotwols provided us with instructions for a great weekend project – constructing a "Yule" bird suet log to hang in your own backyard!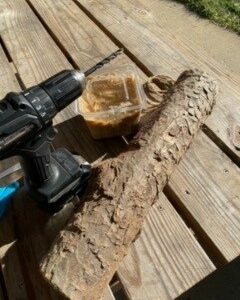 Wintertime Bird Suet Log Instructions
by Sarah Gotwols, Lancaster Conservancy Volunteer Land Steward
16" section of rough firewood, 4" in diameter
Sturdy rope or string (about 18-24" length)
Bark Butter™ or softened suet in any texture or flavor
Power drill w/ regular bit(s) 1/2" to 5/8"
Hot Sauce of choice (gloves if desired)
1. Start by having a clean, safe work area and selecting a dry log, preferably with good bark still attached.
2. Begin by drilling through the log in order to pass the string through for hanging. Best practice is to have the string ¾-1" from the end of the log for good balance.
3. Pass the string or rope through and secure to the log and place knots at the drilled opening to avoid the string rubbing along the log and wearing thin.
4. Next, drill a series of holes up and down the log, not all the way through. Make them as even or uneven as you'd like – get creative! You can also use multiple different bits to make various hole diameters; just be sure to not go too big or it will split the log.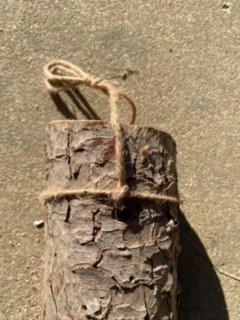 5. At the base of the log (opposite end from the string) drill several holes in the bottom as well, for any bottom feeding suet lovers, such as nuthatches or chickadees.
6. Next, fill the holes with the Bark Butter™ or any other available suet. This is the fun, messy part for any helpers! Pack it in tight and also smear a bit along the bark and into any other knots or cracks in the log. Don't forget the bottom!
7. Lastly, coat the string or rope with hot sauce to prevent squirrels from chewing through it and stealing your creation. It's ok if hot sauce gets on the bark or log – birds do not have capsaicin receptors like mammals do and can tolerate the spiciness.
8. Hang your suet log in the desired location to attract birds!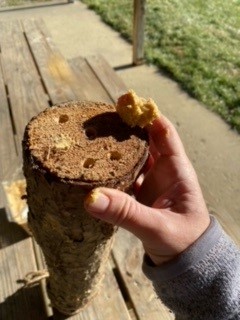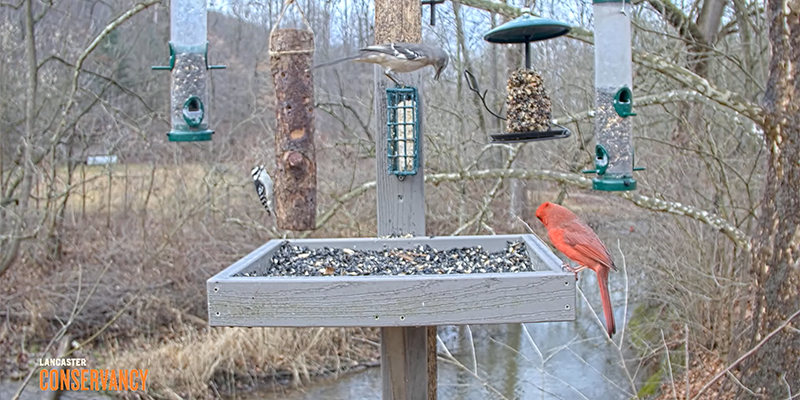 Some notes:
You should clean out the log every 2-3 days by scraping away leftover suet or butter and replacing with fresh.
Remember that it can take a few days and up to 2 weeks for birds to enjoy the suet log. This is normal! The log on Feeder Cam was only up for 24 hours before it had a visitor, however it is in a highly populated area with an established feeder location.
This project is not recommended when temperatures are over 60F as bacteria can contaminate suet and cause illness to birds. If temperatures persist above 60F for more than 48 hours, please discard the log and create a new one to prevent disease. Keep suet products in original packaging or in a refrigerator for proper storage.
View on a video on how to create a suet log on Sarah's Instagram page (@sarahgotwols) or by clicking here!
Want to watch a bird "Yule" log in action? You can watch the birds visiting the feeders at Climbers Run Nature Center any time of day on our ConservancyTV BirdCam!