In this edition of In The Spotlight, Michele Civello, a new Conservancy Volunteer Land Steward, answers questions about what drives her passion to help the environment and to give back. Interested in becoming a volunteer like Michele? Learn more.
Where did your passion to volunteer to save nature begin?
Although this is my first year being an official volunteer, I have always tried to help where I can. When I lived on Long Island, it was upsetting to see litter and vandalization in the woods, and even in the waters. I watched my favorite hidden gems become more popular over the years, and with that came more carelessness.
I started to pick up litter on every hike. It got to the point where I would sometimes have to carry out multiple garbage bags. At times, it was exhausting and discouraging thinking you might be one of the only people doing anything about it.
Before moving to PA, I started looking into volunteer opportunities and came across the Lancaster Conservancy. I tuned into a few virtual Nature Hours and was impressed with how informative the talks were and how involved the community seemed. Fast forward a few months later, now I'm volunteering and having a great time!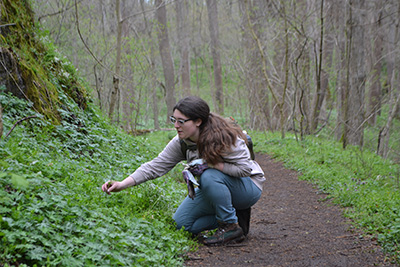 Can you sum up for us the volunteer work you do for the Conservancy? As a Volunteer Land Steward, it's my responsibility to be the eyes and ears of the woods. I watch for suspicious activity, remove invasive plant species and report my observations. I also try to answer any questions visitors might have! I have mainly been working on removing English Ivy at Tucquan Glen. At first glance, it may seem daunting with the amount of ivy there is, but once you start it becomes very relaxing and a lot of fun. It's always nice to take a step back and see the progress you're making, too.
Which is your favorite preserve, and why?
Trout Run has to be my favorite so far! It was the first preserve I visited after moving to Pennsylvania last year, and it's the preserve I have visited the most. It was comforting to form a connection to a new place during such a strange and hectic year. Trout Run is a wonderful preserve to go for a quick walk or to spend hours in!
As far as environmental issues, either locally or globally, what concerns you the most? What gives you hope?
I think most environmental issues come down to lack of awareness and lack of resources, which is what concerns me the most. With better access to educational programs and hands-on activities, more people would probably feel more inclined to lend a helping hand when they can. It's very encouraging to see people getting involved outdoors, especially when you see younger generations learning about how to care for the environment.
Can you tell us a brief story about one of your favorite memories volunteering for the Conservancy?
My favorite recent memory was when I participated in garlic mustard removal at Shenks Ferry. It was nice to meet some other volunteers, and to see how much work can get done when people work together! I love having the privilege to make so many memories while helping the environment. I am so grateful to be a volunteer with such an active organization, and I'm looking forward to all the moments that are yet to come!
Header photo of Trout Run: Michelle Johnsen
Your Support is Needed Now!
Give a gift between Earth Day & Arbor Day
Your Lancaster Conservancy membership connects you to a community of fellow hikers, naturalists, anglers, hunters, scientists, and families that understand the value of keeping our lands wild and our trails open. Give a gift between Earth Day (April 21) and Arbor Day (April 30) to help raise the $40,000 needed to expand and steward our network of trails and nature preserves that are vital for our community and nature to thrive.
Your gift ensures both current and future generations will benefit from the land we save, the trails we create, and the habitat we restore.

DONATE NOW