By Keith Williams, Community Engagement Coordinator
It has begun.
The energy that was just beneath the surface, as winter took its final stand, is starting to erupt. The spring ephemerals are emerging.
Ephemeral is an interesting term for these beings, conjuring up a fleeting frailty, and from our human perspective, they are – but only just as we are fleetingly frail when our specks of lives are viewed from a geologic perspective. While we may only see them during their short rush for sun, in the window between snow cover and canopy leaf out, the reality of these plants is very different from our imposed assumptions. They are botanical bad asses, who strategize to fill a temporal niche.
Niches are often defined by physical space, a way to plug into an ecological gap not filled by anyone else. Spring wildflowers do that with time. They fill the void between snow cover and canopy, when sunlight reaches the forest floor and warms the soil, and they entrepreneurially take advantage of these bright conditions to make and store food for the rest of the year and engage in energetically expensive reproduction.
The short life span of spring ephemeral leaves means they are adapted for a fast growth rate, which requires a fast photosynthetic capacity to support it. Despite their short above-ground existence, they are important food sources for wildlife, and hold nitrogen at a time when most plants aren't interested much in taking in this nutrient. It would leak out of forest ecosystems during the few-month-long window between thaw and full canopy if they weren't there. As ecologically important as they are, what attracts us is their beauty.
Trout Lilies
One of the most common and wide spread of the spring ephemerals are trout lilies, who give us the first specks of color after the white and brown winter clears. Yellow bell flowers grow on a six-inch-tall stalks and nod toward the earth, toward their origins. The brown speckled leathery green leaves under the yellow blooms are reminiscent of the side of a trout, hence the name. Only half of one percent of the plants in a trout lily patch will flower in a given year, and some never will.
They are good examples of the non- ephemeral nature of spring ephemerals. These small flowers are produced seven years after the seed is set, from corms that can be as deep as 15 inches underground. The corms and plants pack on weight while they can and one study found that trout lilies increase their mass 250 percent in 12 days, with a 450 percent increase in the course of the two month growing season. A lot of that mass is stored in their underground corms, which will carry them through the other 10 months of the year, until they make a run for the sun again.
Rapid growth in a few days is the reason they play a significant role in keeping nutrients in the forest, as it takes a lot of nitrogen to support it. The greatest nitrogen loss from forest ecosystems can occur in this period between freezing and leaf out, but the lilies and other ephemerals take nitrogen up and hold it, until their leaves die seven weeks after pushing out of the soil. The energy and nitrogen in the leaves is transferred to the underground corms or released back to the soil to fertilize the trees who are now leafed out – photosynthesizing, carbon up-taking, oxygen factories.
Lilies do more than hold nitrogen. They actually provide nutrition to maples, and likely other tree species, via mycorrhizae fungi. The mycorrhizae form a bridge between the lily roots and maple roots with their frilly mycelium – essentially fungal roots if fungi had roots. There is a direct transfer of carbon from trout lilies to maples through this fungal pathway. This allows maples that are connected to trout lilies to get a jump on spring growth, compared to maples without the lily connection. The relationship is reciprocal, as carbon14 dosed maples transferred some of their carbon to trout lilies in the fall. Trout lilies are pollinated by queen bumble bees, cabbage butterflies, sulfur butterflies and early season flies. The life histories of spring ephemeral insect pollinators are just as intricate as the flowers.
Dutchman's Breeches
Dutchman's breeches' white and yellow blooms look like pantaloons hanging on a line and give this little plant its name. They depend on queen bumblebees for pollination, and queen bumblebees depend on Dutchman's breeches for sustenance after a long winter. Queen bumblebees are the only member of their colony to survive the cold. They were mated the fall before and emerge hungry and in search of a new nest location. They have a proboscis long enough to get to the nectar and pollen from the Dutchman's breeches flowers to fuel her and supply her new nest. The bee gets much needed nutrition, and the Dutchman's Breeches get pollinated. Dutchman's breeches flowers lack fragrance and the bees are attracted to the contrasting yellow and white on the blooms.
Virginia Bluebells
Other flowers make their pollinators work a bit harder for their food. Virginia bluebells cover lower Susquehanna River valley hillsides in spring with a blanket of purple blue. Their nectar, what pollinators are after for food, is at the base of a long tube so insects can't get away with stealing nectar without picking up and delivering pollen, though some gnaw through the flower at the base to steal it.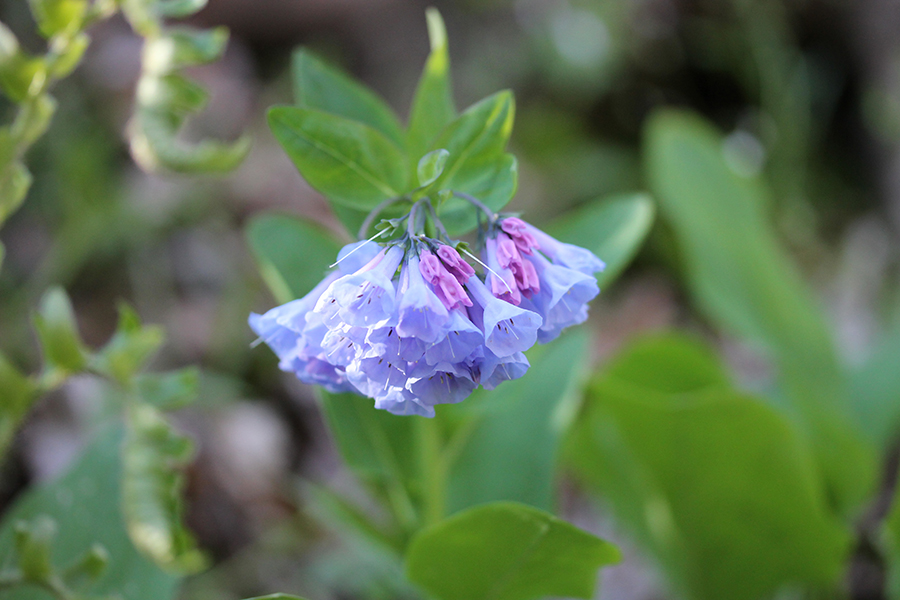 Spring Beauties
Spring beauties, or fairy spuds, are much less obvious than the showy Virginia bluebells, with small white-to-lavender cupped blooms. But apparently size and showiness don't matter to pollinators, since spring beauties are pollinated by a variety of insects – 71 species in fact, according to Laura Martin in her book Wildflower Folklore.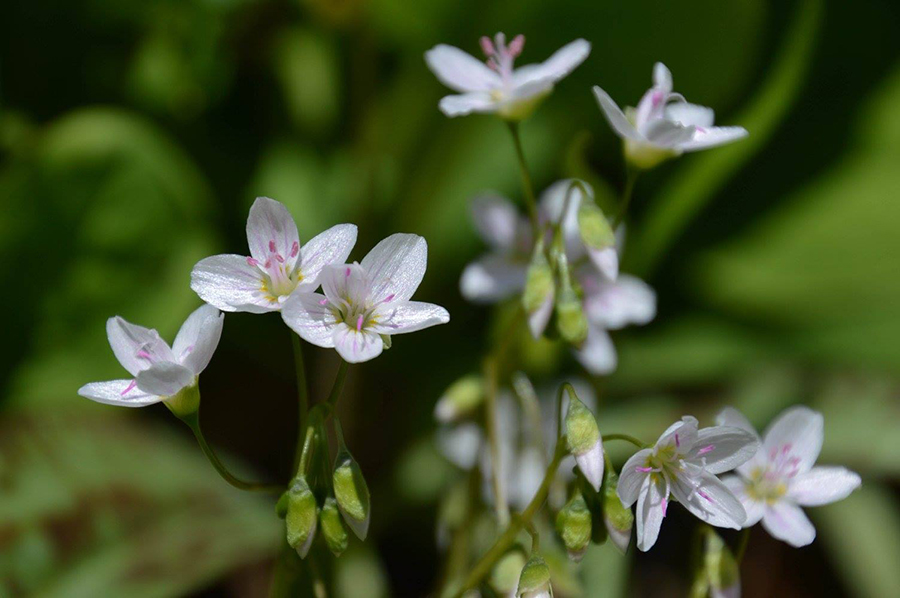 Jack-in-the-Pulpit
Jacks-in-the-pulpit employ a different pollination strategy. The "Jack" part of the plant is the stalk or spadix, and is partly hidden inside a hood or spathe, which is the pulpit. The flowers are actually really tiny green or yellow dots that cover Jack (the spadix) and are only pollinated by fungus gnats, since they smell like fungus. They aren't exactly ephemeral, as they have25-year life spans. Jacks-in-the-pulpit can change from male to female and vice versa year to year.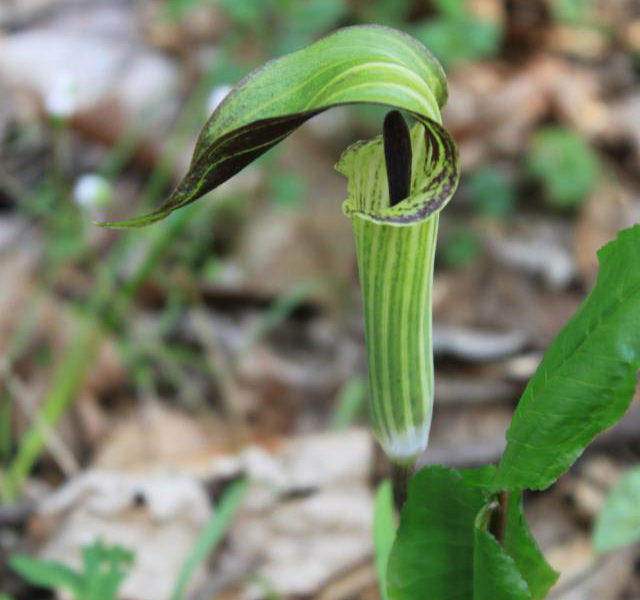 Susquehanna Trillium
Susquehanna trillium also use an off-smell to bring in pollinators. Trillium erectum or stinking William, has red, foul-smelling blooms that attract flies who pollinate it. Trillium flexipes, the declined trillium, is a proposed Pennsylvania state threatened plant, and has cream colored blooms that slightly droop. We are still trying to decipher whether this third type of trillium, Susquehanna trillium, is its own species. As far as we can tell, Susquehanna trillium is a Hybrid between declined trillium and stinking William, so its scientific name is Trillium erectum x flexipes. Trilliums lack true leaves. They flower directly from the root stock and the green things that look like leaves are actually photosynthesizing floral bracts. Ants are the primary seed dispersers of trilliums, attracted by elaiosomes – packets of fat and protein. This is a strategy used by several spring wildflowers including Dutchman's breeches. There are 43 species of trillium known worldwide – 39 in North America, seven in Pennsylvania.
The Conservancy Protects Them – You Get to Enjoy Them!
The flowers mentioned here are just a small sampling of the beauty, abundance, and intricacy about to erupt from the ground. And all of it is at risk. Each plant, flower and ancient relationship with other plants and the insects that pollinate them is threatened by invasive species introductions and over-use, which is why the Conservancy manages its preserves with large spring ephemeral assemblages, like Shenks Ferry Wildflower Preserve, to protect the incredible collection of these flowers. The places the Conservancy protects are present day arks, defending and conserving these species and the ancient relationships they represent. And because of the work of the Conservancy to protect the habitat of these ephemerals, we get to go out and enjoy them.