There is nothing quite as thrilling as catching the sight of a silent owl on the wing during a walk in the woods. These elusive hunters can be difficult to spot with the eye, but their distinctive and sometimes haunting calls are a great way to identify them, and even lead you to their location. Late winter is an especially great time for owling, as owls are calling more frequently to attract mates or claim their territories. Here are three of the most common and active owls to listen for in the late winter woods.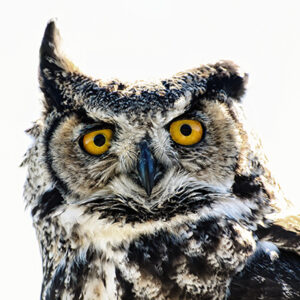 Great Horned Owl
The great horned owl has the call that most people associate with an owl – a very clear "who, who, who-who". A large brown owl with "ear" tufts on the top of its head, it's also one of the most recognizable of our owls.
Barred Owl
It's tough to miss the barred owl's distinctive call, "who cooks for you, who cooks for you-alllll." It is a common sound in more old-growth tree stands and forested swamps in the eastern U.S.
Eastern Screech Owl
The pint-sized Eastern screech owl is another common resident of our preserves. Their call bears little resemblance to a "whoooo" that we associate with owls, but its high-pitched tremolo and whinny is tough to miss.
The Cornell Lab's All About Birds site has a wealth of additional information on it, including tips on id'ing owls (and other birds) and multiple recording of calls and songs.
Of course, you can also always go "owling" from the comfort of your own home by checking out the Climbers Run bird or stream cam at night – you might even catch an owl fishing, like in the video below!