By Steve Mohr, Lancaster Conservancy's Senior Preserves Manager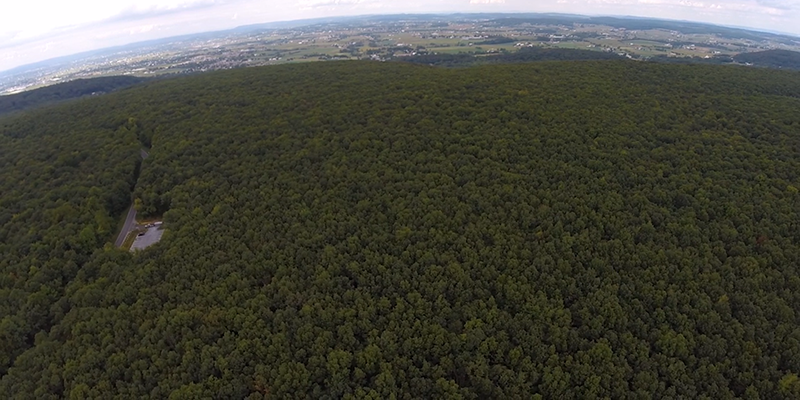 For those who have visited Welsh Mountain Nature Preserve, the beauty and importance of this conservation area requires little explanation. Rising high among the surrounding farmland, the deep woods of Welsh Mountain stand out clearly on a map of Lancaster County. Along with hosting the Conservancy's longest trail system, this is also our largest nature preserve at over 940 aces. Both Mill Creek and Pequea Creek draw their headwaters from the broad slopes of Welsh Mountain and the neighboring Money Rocks County Park. The forest glows each fall with the fiery crimson and golden hues of gum, sassafras and oak leaves, signifying the end of the growing season. For Conservancy staff, volunteers, and municipal partners, that colorful display serves as a starter pistol for access improvement projects that we undertake each year. Over a period of five years, that team has worked to reimagine a network of badly-eroding, stormwater-funneling jeep roads into one of the Conservancy's premier trail systems. Where exposed, uneven, and hard-to-walk-on bedrock once littered the surface of those trails, hikers can now glide across a pleasant woodchip surface.
This fall Conservancy staff worked with volunteers to continue implementing those trail improvements.  We also worked with East Earl Township employees to improve and stabilize emergency access paths on the property. While rare, emergency responses do take place on our nature preserves. Whether the result of a rolled ankle or an underlying medical condition, our goal is to ensure that first responders are always able reach an injured visitor on the property. To help secure, protect, and identify them for emergency use, a steel gate was also installed at the entrance of each access path. As a result of this year's work, such responses can occur more easily, quickly, and safely throughout the Welsh Mountain trail system. Next fall, those deep orange gates will compliment nature's stunning chromatic display atop the region's lonely mountain.
While fall is an especially beautiful season at Welsh Mountain Nature Preserve, you shouldn't wait that long to visit this gorgeous spot. In fact, I highly recommend this site for a winter hike. Warm rays of sun filter down through the defoliated tree canopy, and the sprawling farmland views from our Overlook Trail are at their best during this time of year. If you've never been to Welsh Mountain Nature Preserve, start planning your visit today! You won't be disappointed.